Sanyo 6C-5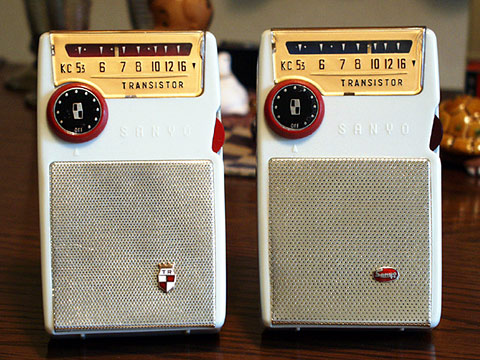 The 6C-5 hit the streets in September 1957 as Sanyo's first vertical shirt-pocket set and the company's third transistor radio. This one carried a price tag of ¥12,900. The product announcement in a contemporary Japanese magazine refers to the model by its nickname, the "Ruby". And Sanyo advertised it as being as small as a train pass holder. Whatever a train pass holder looked like in 1957...

A beautiful set that exudes quality from every angle, the 6C-5 stands as testimony to Sanyo's commitment to building quality radios. The two units pictured here show slight production differences, with the sample on the right being the (marginally) earlier version.
72 mm x 118 mm x 32 mm (2-7/8" x 4-5/8" x 1-1/4")
Update Note (08.01.27): I added a page showing a pair of alluring leather carrying cases for the 6C-5.